Highland Beef Information
Highland cattle are noted for meat that is lean and low in cholesterol. Rather than adding a layer of fat for winter protection as other breeds do, Highland cattle grow long hairy coats, an under-down and a longer, coarser outer layer, which protects them from excessive cold and wind. The result? Naturally low in fat and low in cholesterol. Whiskey Belle Ranch cattle are raised according to these principles.
1. Our cattle are purebred Highland steers.
2. Our cattle have been raised and handled in a humane manner.
3. No added hormones, anabolic steroids or other substances added.
4. Our cattle's only source of food is the grass in our pastures.

Highland Cattle For Sale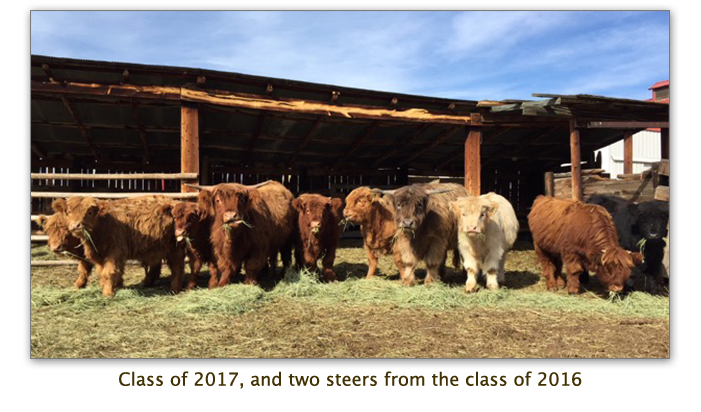 All of our heifers were sold in 2018. We expect 10 calves in 2019. We now have a limited number of young bulls for sale from our incredible Sire, Brodgar. Calm temperament, good feet, solid confirmation and a chance to own a breeding bull that will bring your "Fold" the beef production Highlands can offer. If you are interested in breeding stock from Whiskey Belle Ranch, our 2019 reservation list and cow pedigree and photos are available by contacting Whiskey Belle Ranch at 970-482-0248.
Whiskey Belle Scottish Highland Cattle Hides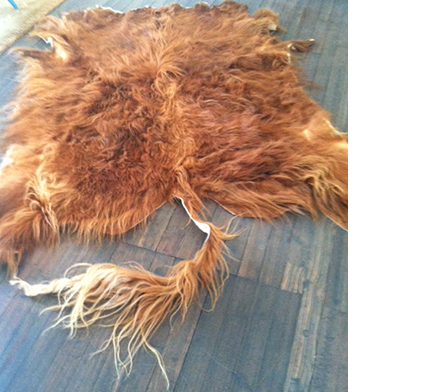 Highland Cattle Hide for Sale:
Brindle color with blonde tail.
approximately 6'x5'
Price is $1150.00 without
shipping or handling.