About the Land
This 1894 Ranch is located near Red Feather Lakes and Livermore, Colorado. North of the city of Fort Collins, it was the historic ranch headquarters of a large cattle ranch. The North Fork of the Cache La Poudre River runs thru the eastern edge of the property for approximately half a mile, after flowing through the sheer rock walls of Phantom Canyon. Spend time riding horses and viewing the bluffs, or take a stroll across the historic iron truss bridge.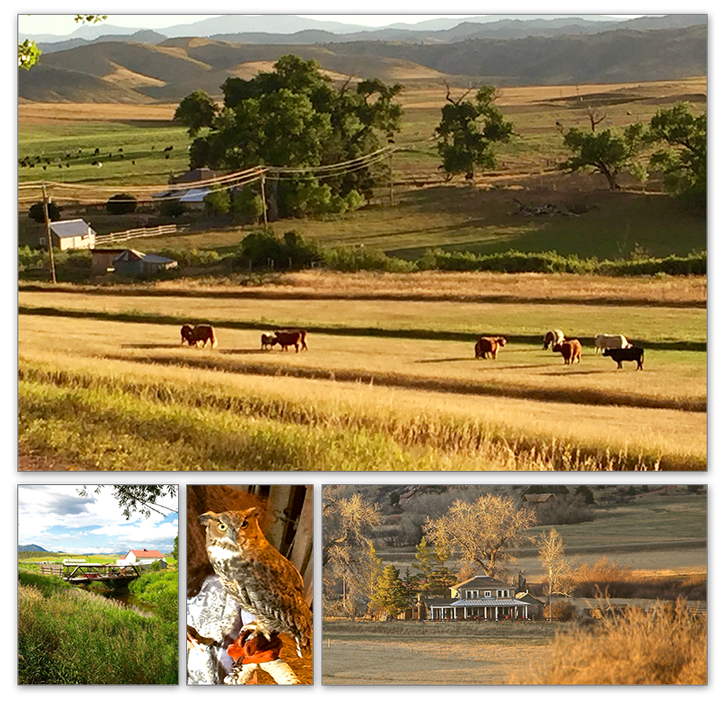 Originally Livermore was home of the Paleo Indians, some 13,000 years ago. Several Archaeological sites are near the Ranch including the famous Lindenmeier Site. Comanche, Ute, Kiowa, Arapaho, Apache and Cheyenne all lived in or moved through the area. By the late 1800's the removal of indigenous cultures by the US Calvary opened the area up for large scale settlement by Europeans. Many English "Second Sons," the sons whom by their order of birth did not inherit their families property in England, moved to the Livermore area and became cattle ranchers. William Calloway, was the first "owner" of the Ranch who sold it to Charles Cradock, who built the original house in 1894.
Discover the amazing wildlife including White Tail and Mule Deer, Coyotes, Bobcats, Bald Eagles, Red Tailed Hawks and Prairie Falcons. At night enjoy the Night Hawks and Great Horned Owls.

Sitting on the porch or trekking up to the ridge, the beauty and serenity of the land will rejuvenate and inspire.